A great day last week at our Nature if Wild Works animal benefit with Andrea Lahue. #thegabbagallery #benefit #natureofwildworks #andrealahue
That's Wyatt! Yay!
So, um… we're moving… again. We're heading to Santa Clarita, CA.
For those not on the West Coast, we'll still technically live in what's considered Southern California, though most people in L.A. simply consider it "not the Westside."
If you remember, we moved to Beverly Hills for the school district. Well, the schools in Santa Clarita are even better. Way better, in fact. Plus, the home is bigger, so we won't feel like we're tripping over each other as the boys grow. And the community has a private pool, so the boys can swim anytime they want.
There are many other reasons why this move will improve our lives, but here's the most important thing you Tumblr folks need to know about our soon-to-be new hometown:
Santa Clarita (a colloquial name that actually refers to a cluster of towns—Santa Clarita, Valencia, Newhall, etc.) is also known as "Hollywood North" because of all the productions that film there—from TV shows like Star Trek and Deadwood to films such as Pump Up the Volume and Drive. Of course, production people also call Canada "Hollywood North" for the same reason. And there's also a real city in L.A. County called North Hollywood just to add to the confusion. But, I digress.
Here's the thing. You see, right now, they're shooting a zombie movie in Santa Clarita. Oh, and it's also where they filmed 1978's KISS vs. The Phantom of the Park.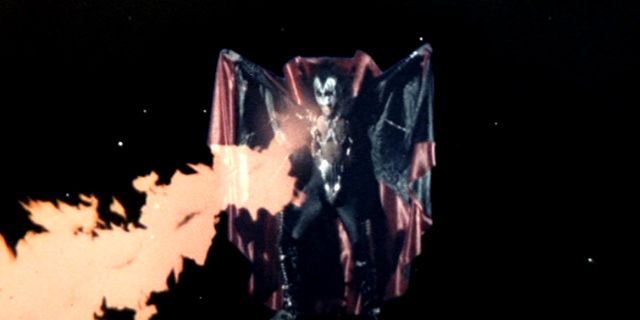 Guys, it's so perfect.
(Santa Clarita photo by Jeff Turner)
While I was battling the plague all weekend, my wife took the boys to LA's Skirball Center for Lego Day. They saw professional Lego displays and got to build their own creations (each built a spaceship, of course) and they even got their own minifigs.
It sucks being sick.
The woman who organizes and leads children's activities at the sports club we go to informed us she's leaving. We're sad to see her go because she's great and the boys love her.
She gave me her business card, which I assumed meant she'd like to see the boys again, maybe babysit or have them come to wherever her new job is. When I got home, I entered the web address on her business card.
Acting resume and headshots.
When I posted a collage of images showing us with the boys at the Whiskey, I said I'd explain later. We were there to see our friends' daughter perform with her band as part of a band camp graduation-type thing. And she killed it.
The other thing that happened was Wyatt totally spazzed out. Not in a bad way, but he clearly enjoyed the show and the club. He kept dancing, climbing, grabbing the hands of strangers and dancing more (gotta quell that fast).
So… I guess Wyatt's drawn to club gigs… Oh, dear.
Hi! Long time reader from Australia here. I'm a mum to 2 boys (5&4yrs) and a 6 month old baby girl. I'm coming to the US for the first time in May for my brothers wedding and will be staying a few days in LA. Any suggestions of must see sights? It will just be me and my daughter (too expensive for us all).. And on a budget. I'm keen to see Santa Monica Pier, Warner Bros Studios, maybe Lego land.. Any ideas would be helpful! Thanks! Also, love your blog. I'm learning to CTFD. ;)
Asked by Anonymous
If you're in town for just a few days, I think the pier and one of the studios might be enough. Depending on where you're staying, getting to and exploring the pier can be a full day. And (LegoLand isn't exactly close by.) For an inexpensive, yet entertaining activity, you should check out Hollywood Blvd. It's a freakshow.
And good luck with the CTFD stuff. Let me know if you figure it out. I'm still trying.
We went to a birthday party at the Natural History Museum. Who knew that was a thing?
We went to the Beverly Hills Police Department's community day/pancake breakfast thing. The boys seriously didn't care about the SWAT vehicle or the gun display or anything like that. No, they just wanted their face painted — Boone got a robot face and Wyatt requested "golden Batman." (Though, they did enjoy the self-defense booth, where they got to punch and kick with an instructor.)
Afterward, we hit the Beverly Hills farmer's market and did the petting zoo, which was absolute chaos. It got particularly exciting when one of the chickens made a break for it.
Another installment of our semi-regular adventures exploring the alleys of Beverly Hills.
Here you see the Lost Boys exploring the abandoned zoo in Griffith Park.
We had a Father's Day picnic with a few other friends there. All of our boys pretended to be lions and gorillas in the empty paddocks.
My wife and I brought a pitcher of mimosas and, after we'd polished it off, realized we should've offered some to the other parents.
Oops.
Anyway, prepare yourself for a few pics from this outing tomorrow.